Prv Article
Nxt Article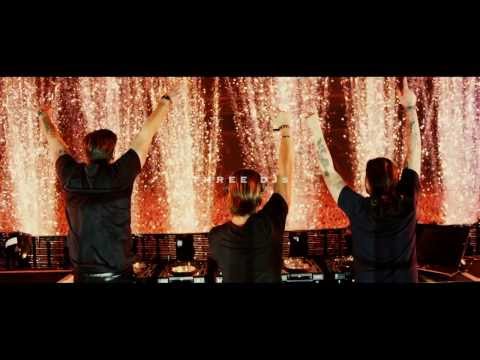 Christian Larson got his start filming skate videos in Sweden and editing for iconic Swedish director Jonas Akerlund, before breaking into the directing game himself. His latest offering is a documentary on EDM sensation Swedish House Mafia, set to premiere at SXSW this year called "Leave The World Behind." We wanted to know more.
If you had to give the quick elevator pitch of the documentary, what would you say?
It's the story of three DJ's and best friends becoming world stars, selling a million tickets and then deciding to break-up the band at the same time. That and colorful crowds of 45.000 people dancing and screaming to house music around the world.
It seems like there's a lot of documentaries about bands, often about bands that have broken up (I'm channeling some serious Behind The Music right now), but very few about bands breaking up in real time. How did that narrative take shape within the doc?
I followed the band and was lucky to be there at the time when it all went down. So I picked up the camera and started shooting. The first film I made about them was different because it was a film about a band that didn't even have a first single out yet. I like the fact that this one is different in the same way. It captures the band on their way to the end.
Your first documentary about SHM, "Take One" took on a cult status within the EDM community. Do you feel like this is chapter two, or an extension of that story?
It is both actually. The first film captured a year in their career up to their first single release. This second one is about the end, but also tells the backstory of the band, how they came together etc. It's a great story actually. But if you saw the first one, this film reveals how the time in the first film changed the band members. A couple of years have passed, the partying is sort of over, families have been born… How do keep both a family and a rock star career alive?
Any particularly memorable moments or stories from filming?
Filming in India was amazing and it ended up as my favorite part in the film too. The people there have taken this genre of music to their hearts and showed it to the band on another level. The faces, the screams, the locations… It was nuts. And very emotional.
What's up next for you? SXSW and beyond.
Now it's time to get back to making some videos and exciting short projects and also develop my next long form project. Very exciting times!